We have an extensive range of adhesives and sealants suitable for fixing our range of rubber products
Our range of Adhesives and Sealants compliment your choice of rubber when fixing to a range of surfaces.  We stock and supply standard and heavy duty glues and contact adhesives for a range of projects, suitable for creating seamless joints.  You can buy securely from our buy online range of adhesives, sealants and associated accessories, or for advice and our full range please contact us.
Choosing the correct adhesives and sealants for your project is important. With our combined 100 years plus experience, we are able to guide you to the right product to achieve your desired results. From sealant adhesives which you can safely paint over, to sealants that are tested and proven waterproof, we can assist.
Our range of adhesives and sealants are compatible (where project limitation permits) with our rubber sheet, rubber gaskets and rubber strip products.
Sealants and Adhesives within the Marine Environment
When working within the Marine environment, it is essential that sealants and adhesives prevent moisture penetration along joins. Our FC40 forms a flexible bond which remains effective after application, and is waterproof. This makes it ideal for bonding in marine applications above and below the water line, and is available to buy online via our secure online shop.  When fixing rubber where moisture is present, our fast acting contact adhesives are ideal and will cure quickly giving maximum performance in a short period of time.
High Strength Contact Adhesive
High strength contact adhesive is ideal for situations where a bond is required along a join or fixing point. Ideal for joins between rubbers, plastics, wood, metal and fabrics, our off the shelf range of Alpha Thixofix is available to buy securely online.
For specialist projects or large scale applications please contact us for assistance with your order.
View & Buy from our Online range
Our always in stock range of common adhesives is available to buy via our secure online shop.  Please select below to view more details.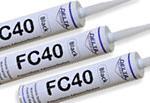 FC40 Adhesive & Sealant
A sealant and adhesive that is paintable and waterproof. FC40 forms a flexible bond, being permanently flexible after application. FC40 adhesive / sealant is suitable for many applications including sealing and bonding in marine applications above and below the water line.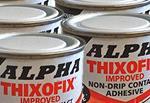 Alpha Thixofix Contact Adhesive
Alpha Thixofix Contact Adhesive is a non drip permanent, high strength, multi purpose contact adhesive which allows for slight adjustment on application. It can bond rubber strip, laminates, rigid PVC, cork, leather, wood, metal, hardboard, plasterboard, chipboard, fabrics and many other materials.