Crittall greenhouse glazing seal and Baco greenhouse glazing EPDM rubber window seals
Do you have an old Crittall or Baco metal greenhouse with tired glazing gaskets or leaky glass seals? Gardening enthusiasts with a Crittall or Baco greenhouse will be pleased to know that Delta Rubber in Christchurch, Dorset, now stock the glazing seal, which is made from a special UV-resistant closed cell EPDM rubber sponge cord.
Our glazing seals are suitable for a number of applications, for alternatives to our Crittall and Baco glazing seals, please see our rubber extrusions section. We stock a huge range of window seal profiles available to buy online by visiting our online shop, all of which have accompanying dimension images.
Expert advice on your project requirements
If you are unsure of which product best suits your project requirements, please contact us for expert assistance with your order. We are able to assist with general queries or specialist, one-off projects where unique solutions and products are needed.
You can buy directly online via our online shop with fast UK wide delivery, or contact Delta Rubber Limited for details by calling 01425 278011 or emailing deltasales@deltarubber.co.uk.
View & buy from our online range
Our always in stock range of Critall greenhouse glazing seal and Baco window glazing seal is available to buy via our secure online shop.  Please select below to view more details.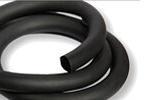 Critall & Baco Glazing Seal
Expanded Neoprene rubber cord for Crittall window glazing seals and Baco window glazing seal, also suitable for glazing seals on greenhouse doorways.