Genuine Viton Rubber from Delta Rubber Limited can be supplied in a variety of forms to suit a range of applications, including rubber sheet, rubber roll and rubber strips.  We are also able to manufacture a range of products including gaskets and specialist seals using our in house state of art machinery.
Viton Rubber Grade
Our premium Viton® fluoroelastomer provides heat and chemical resistance for automotive, aerospace, oil and gas, and other demanding sealing applications not available with other materials.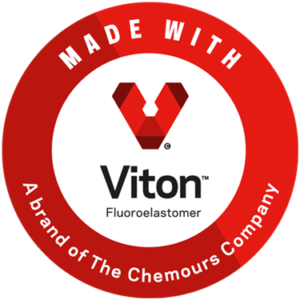 Specifications
Black premium Viton rubber 70° Shore A.
Thickness: 0.5mm to 10mm (other thicknesses on request)
Sheet size: 1.2m wide x 5m or 10m rolls
Finish: Plate Finish
Cutting: Standard Press Tools
This product is REACH, RoHS, PAH & CE Compliant
Technical specifications:
Material: FKM Fluoroelastomer
Application: High chemical resistance, oil resistance and fuel resistance
Thickness: 1mm, 1.5mm, 2mm, 3mm, 4mm, 5mm, 6mm, 8mm, 10mm
Colour: Black
Density [specific gravity]: 1.85g/cm3
Hardness [Degrees Shore A]: 70°±5°
Tensile Strength [Mpa]: 7 Min.
Elongation at break: 200 %
Minimum Temperature: -20°C
Maximum Temperature: +250°C continuous, +315°C
Tear resistance (KG/cm): 20
Compression Set (22hrs @ 70°C: 62%
We Supply Standard & Custom Sizes
Viton rubber sheet

We stock and supply Viton rubber in a range of forms including cut strip, A size pads, sheet and by the roll. Our online shop offers Viton rubber sheet and Viton rubber strip in a huge range of thicknesses, widths and lengths.