Rubber matting in a choice of rubber types, finishes and sizes suitable for a range of instances
Delta Rubber Limited produce and supply rubber matting in a variety of materials and sizes to meet your specifications. Our matting range includes industrial grade, welding mats, entrance mats and general purpose matting, in large or small orders.  We have a range available to buy online, including our anti slip fluted rubber matting.
Rubber Matting Materials we Supply
We supply a choice of materials for our mat products including:
Neoprene rubber matting
Nitrile rubber matting
Natural rubber matting
Silicone rubber matting
Viton rubber matting
EPDM rubber matting
Insertion rubber matting
Food Quality rubber matting
WRC approved rubber matting
All materials can be supplied in the quantity you require with advice given if you are unsure of the best material for your project. If the material you require is not in the list above, please contact us and we will endeavour to help.
View & buy from our online range.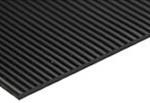 General Purpose Fluted Rubber Matting
Manufactured from Natural rubber (SBR), our fluted rubber matting has a slip resistant surface and is suitable for a range of applications including work bench mats, light duty walkways, steps and case inserts. for full product details please view this item on our online shop.