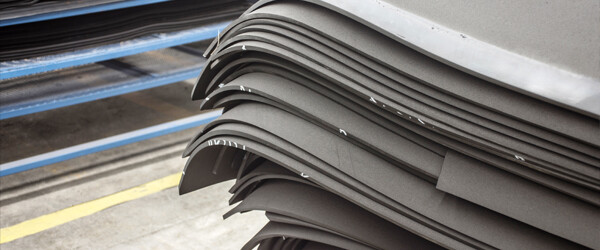 Standard & Specialist Rubbers and Gasket Materials
We supply a wide range of rubber types for your project and can either manufacture your product or supply. Our selection of rubbers are available in a comprehensive range of rubber grades.
Please choose your rubber type in the menu to view more detailed material information. The majority of our products are accompanied by a material specification and data sheet (also available to download in pdf format). All of our rubber products manufactured to British Standard specification have an associated data sheet available to download.
If you require a specialist rubber or material which is not listed below please contact us and we will endeavour to assist with your project.
Rubber and Material Options
Commercial Quality EPDM Rubber
Commercial Quality & British Standard Neoprene Rubber
Commercial Quality & British Standard Nitrile Rubber
Tan Para / Shotblast Rubber
White Silicone Rubber
Red Silicone Rubber
Genuine Fluorocarbon Viton Rubber
Commercial Quality Insertion Rubber
Commercial Quality Natural SBR Rubber
British Standard Natural Rubber
Nitrile Bonded Cork
Tico S
Expanded Foam Rubber
Expanded Foam adhesive backed Rubber
PTFE & Plastic Shime
Butyl Rubber
Impregnated Paper
We can manufacture and supply custom rubber gaskets to order and offer a range of additional gasket manufacturing materials for your project. We support our comprehensive range of rubber materials with;
Rubber sheet roll supply
Cut rubber strip manufacture and supply
Gasket cutting manufacture and supply
Extruded rubber
Rubber Seals
Specialist rubber matting
One off production runs
High end and precision rubber product manufacture and supply
Rubber supplied to your sizes in quantities to suit you
We supply all of our rubber in a range of forms including rubber sheet, rubber sheet roll, rubber strip, rubber pads, cut gaskets and we can supply in your required size and quantity.
Our rubber and material sizes and supply options are as follows:
Thickness: as required, custom cut to order where standard sizes are not applicable
Width: standard sheet roll width or cut to order
Length: per metre or by the roll or cut to order
Supply options: one-off, weekly, monthly etc, or as required