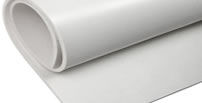 FDA Compliant Silicone Rubber Sheet supplied cut to size, by the roll or available to buy online in standard sizes
Delta Rubber Limited supply FDA compliant Silicone rubber sheet cut to your specifications or from our standard range of sizes which are available to buy online via our secure online shop. To buy online please visit our FDA compliant Silicone Rubber Sheet page.
FDA Compliant Silicone Rubber sheet supply
We are able to supply your sheeting in a range of sizes and lengths, the majority of which are available to buy online. Our online range has the following size options and specifications:
Sheet thickness: 1mm, 1.5mm, 2mm, 3mm, 5mm, 6mm
Sheet length (metres): 1m, 2m, 3m, 4m, 5m, 6m, 7m, 8m, 9m, 10m (1 roll)
Sheet width: 1.2m, 1.5m and 1.8 metre
Custom sizes and sheet thickness options available upon request. Please contact us for assistance with your project.
If you require a sample please visit our online shop using the "Buy Online" link above and select "Request a Sample" from within the product page. Alternatively please contact us by email at deltasales@deltarubber.co.uk or by calling 01425 278011.
Buy FDA Compliant Silicone Rubber Sheet Online
FDA Compliant Silicone Rubber Sheet
As well as our FDA Compliant Silicone rubber sheet (as listed to buy online), we stock and sell a wide range of grades of Silicone as required. Please choose below for more information, follow the links to buy online, or contact us if you do not see the grade you require listed.